Independent Study
Commercial Farm Results
Science Publications
Other Clinical Work
Independent Study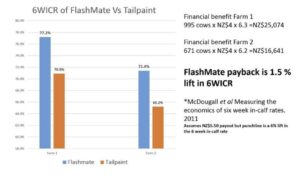 In October 2014 a large independent clinical study of 1,466 cows demonstrated a lift in six week in-calf rate across several farms with FlashMate when compared to good managers using paint in the control.  Clearly, FlashMate requires lower skill and labour input.
Cows in real commercial dairy herds in the Waikato region were paired by age, breed, calving date and one of each pair was randomly assigned a FlashMate so that 50% of the herd had FlashMates and the control group just had paint as per normal practice.  The probability of pregnancy by 6 weeks following PSM (Preg6w) was compared.
Cows fitted with a FlashMate units on both farms had a higher probability of preg6w than their counterparts in the control group (Farm A, 77.2±2.1% and 70.9±2.4%, P=0.04, respectively) and (Farm B, 70.1±2.1% and 66.9±2.4%, P=0.04, respectively).*
The outcome was that cows fitted with FlashMate had a 6% higher 6WICR than those with just paint.  The farms in this clinical study would have paid for FlashMate more than four times over in their first season alone.
It is noted that both farms acknowledged that they did not always breed to the FlashMate alert as per the protocol and so the performance of FlashMate is likely to be underreported in this study. It is acknowledged that farm B ended the AB period at 5 weeks rather than 6 which will have likely reduced the reported performance on preg6w of the FlashMate treated group.  At the same time study and control groups were mixing and forming sexually active groups including FlashMate alerting cows.  Thus the control groups also improved during the period of the study, closing the performance gap somewhat.
*Note this result does not necessarily mean that a farm will increase its 6WICR by 6% or more compared to the previous year.  Different periods cannot be reliably compared because of many uncontrollable variables. But that there is a statistically significant probability that FlashMate would improve six week in-calf rate compared to what would be achieved without FlashMate within that same season.
Commercial Farm Results
Science Publications
Other Clinical Work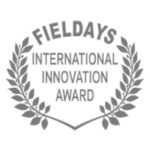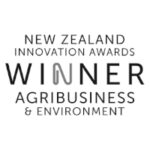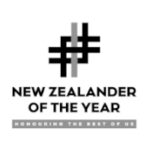 FlashMate has featured in
FlashMate has featured in